Grass-fed Ground beef Bolognese
December 11, 2020
Meal prep for the week ahead can be daunting. The idea of spending a day shopping, washing, cutting and cooking food may not be for everyone, but when you do make the effort weekday meals go much more smoothly. Here are a few tips to help you get organized: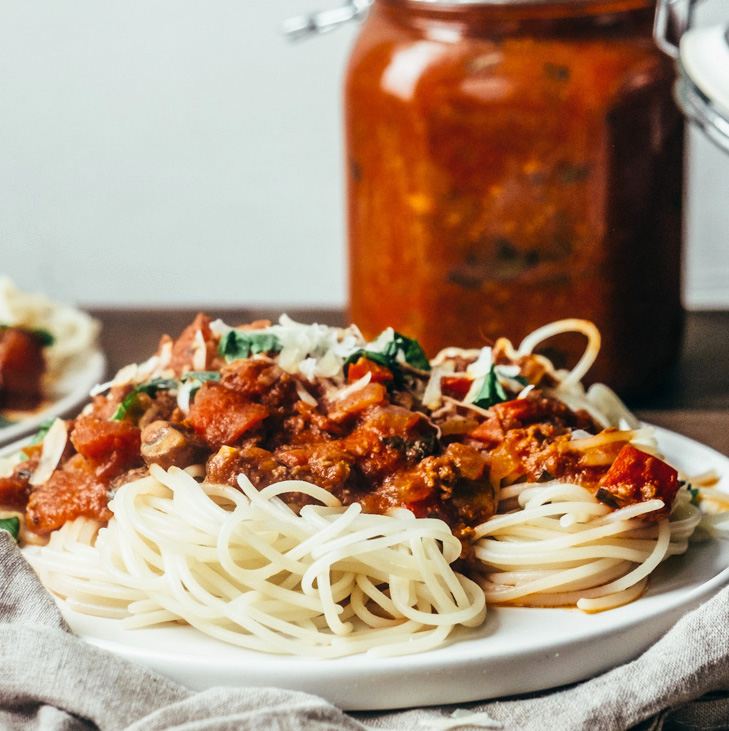 Use recipes that are easy to make in large batches. 
Freeze in the exact portions you need. 
Stick to 1-2 dinner recipes on your meal prep day. Don't try to make 7 different meals for 7 different days. 
Prep items that can be used again in a different way. For instance, ground beef can be cooked and then used in tacos, enchiladas, or in a rice bowl. 
Stick to recipes that are foolproof. 
NIKU Farms grass-fed ground beef is a great choice not only because it is a high quality meat sourced from a local farmer, but it is also a wonderful protein option for weekly meal prep routined. Some common ways to use it are:
Seasoned ground beef taco meat (to use in tacos, quesadillas, enchiladas or taco rice bowls throughout the week).
Meatballs (use with tomato, cream, or pesto sauces throughout the week).
Burgers (make a double batch and freeze half).
Stuffed Peppers (make a double batch and freeze half).
Shepherds pie (make two casseroles and freeze one).
Meatloaf (bake two loaves and freeze one).
And of course, this delicious and fool-proof Beef Bolognese recipe!
Grass-Fed Beef Bolognese
You can make this whole recipe and use half for dinner then freeze the other half for later use. It can be repurposed on top of pasta, roasted vegetables or even in a sloppy joe form.
This recipe uses:
Bacon (check out Niku Farms bacon packages here).
Onions, which have shown to support a healthy heart with antiplatelet activity and antithrombotic activity.
Garlic, which helps support the immune system with antibacterial activity.
Red Peppers, which are high in antioxidants that help protect the liver.
Mushrooms, which have been shown to be antiviral and anti-inflammatory.
Tomatoes contain lycopene, which has been linked to a decrease in cardiovascular disease.
Grass-fed ground beef, which has a high ratio of healthy fats.
Bone broth, which has many health benefits as seen here.
This is a delicious and easy sauce recipe that helps to make weekly meal prep a breeze.

Prep Time: 25 minutes
Cook Time: 1 hour
Servings: 6

Ingredients
2 tbsp of ghee, butter or olive oil, divided
4 pieces of bacon, chopped
1 large onion, chopped
1 red pepper, chopped
3 cloves of garlic, minced
1 lb grass-fed ground beef
1 28 oz can organic diced tomatoes
1 28 oz can organic crushed tomatoes
1 tbsp tomato paste
1 cup bone broth, or broth of choice (low sodium)
1 tsp oregano
½ tsp chili flakes
1 bay leaf
1 tsp salt
2 cups chopped mushrooms
½ cup packed chopped basil
Pepper to taste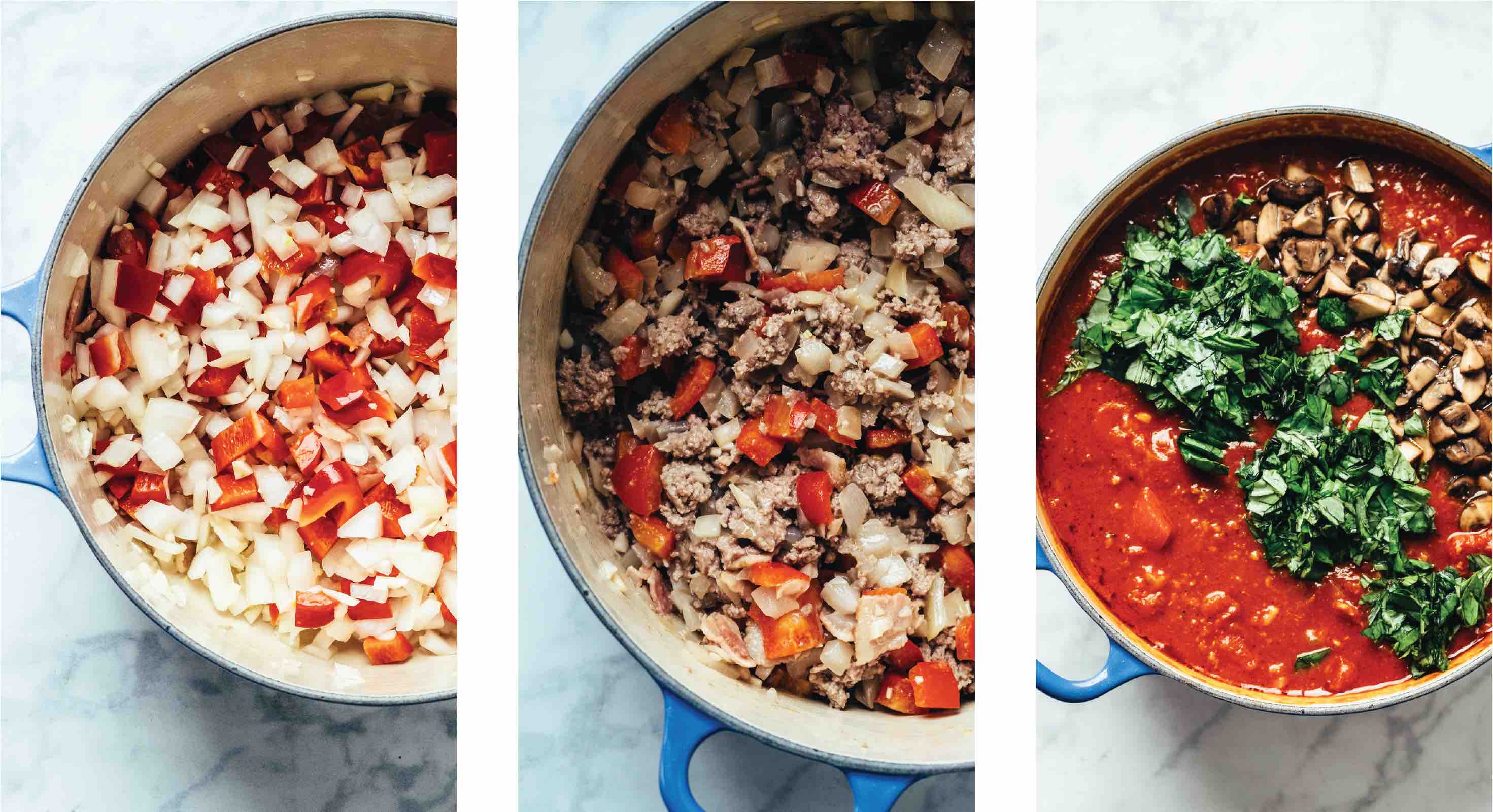 Method:
Heat 1 tbsp of ghee in a large pot over medium heat. Add the chopped bacon and cook until browned (but not crisp). About ten minutes.
Add the chopped onion, pepper and garlic and saute until the onion is tender.
Add the ground beef and brown with the vegetables.
Add the diced tomatoes, crushed tomatoes, tomato paste, broth, oregano, chili flakes, bay leaf and salt. Stir and bring to a boil. Turn the stove down and simmer, covered for 45 minutes.
Meanwhile, in a medium pan heat 1 tbsp of ghee over medium heat. Add the mushrooms to brown (until water is released). Set the mushrooms aside.
After the sauce has cooked for 45 minutes remove the lid and add the mushrooms and fresh basil. Cook for another 15-20 minutes with the lid off so the sauce thickens.
Taste and adjust with more salt and pepper.
Serve with freshly grated parmesan and fresh basil.