What does a NIKU Farms box break down to?
February 25, 2021
We get it, if you're ordering meat online it's hard not to second guess whether or not you'll have enough for your family. When we're in grocery stores we get to weigh each cut with our own hands and look at sizes to compare. We've taken our own pick of three bundles from Marita Fields – just enough to fill a large box – and broke down what it looks like in terms of meals for a household of four individuals with regular appetites (ex. children will eat less, teenagers might eat more).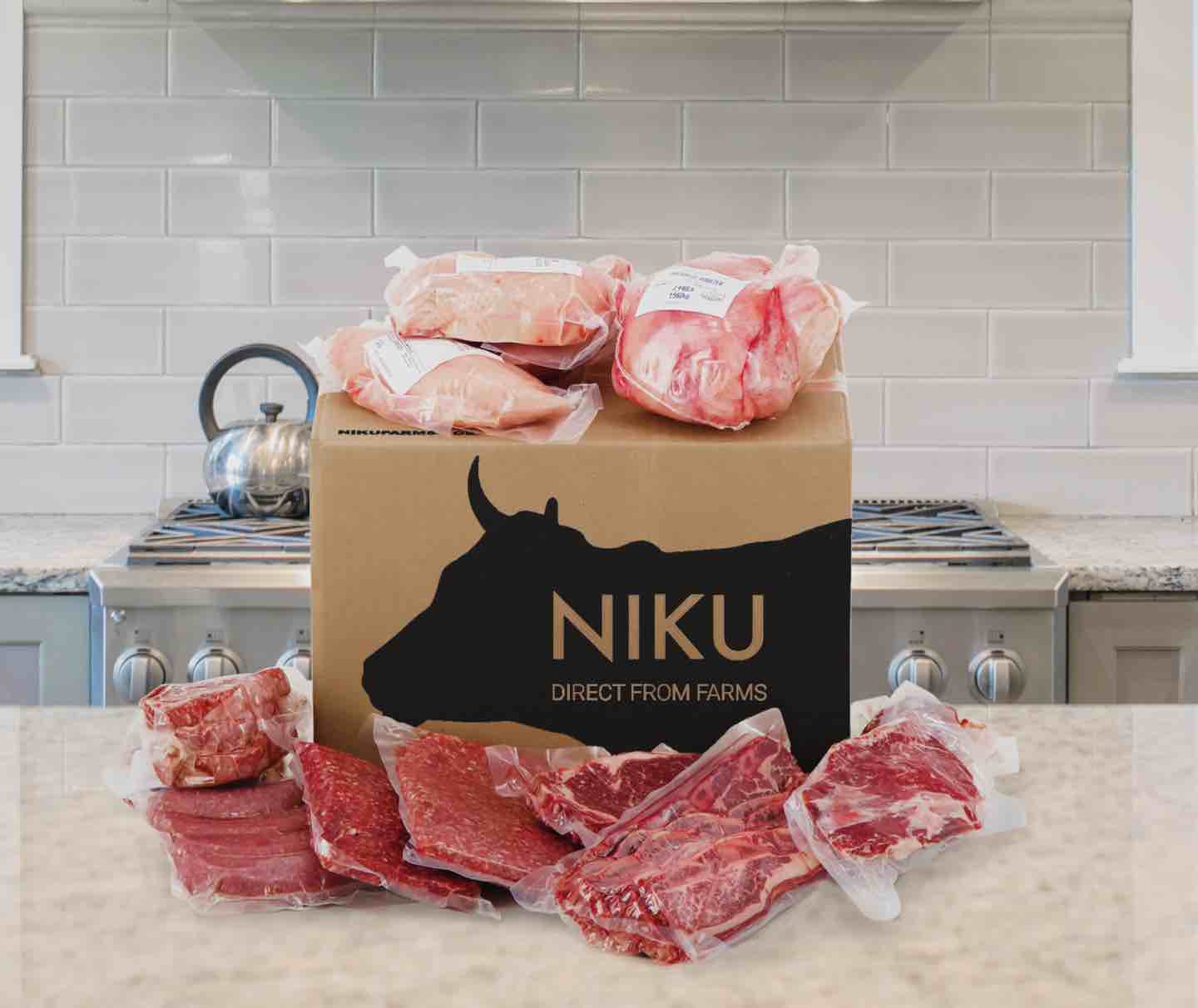 Steak Bundle:
2lbs Ground Beef (1lbs/pk)
2lbs Premium Steak (2lbs/pk)
Roasted Chicken:
2.5lb Leg Quarter (1.25lb/pk)
1.4lb Breast (1.4lb/pk)
3.5lb Whole Chicken (3.5lb/pk )
Meal Ready:
2lb Ground Beef (1lb/pk)
2lb Fajita Beef (1lb/pk)
2lb Stew Beef (1lb/pk)
Let's see what we can make with all the contents inside our NIKU Farms order!
Steak Bundle:
1 pound of grass-fed ground beef is enough to make 6 servings of spaghetti bolognese sauce.
1 pound of ground beef is also enough to make 6 servings of meatballs.
2 pounds of premium steak is enough for 2 servings
Roasted Chicken:
1 Whole chicken is enough for a whole roast up of 4 to 6 servings
2 Chicken quarter legs serves 2-3 roasted and served with rice or potatoes
Saved chicken bones and scraps (2 pounds approx.) makes 8 cups of chicken bone broth.
1.4 lbs of chicken breast is enough for 4 servings of any chicken salad
Meal Ready:
2 pounds of ground beef can yield 8 hamburger patties, but can also be used separately for tacos, cheeseburger pizza, mince pies, etc!
2 pounds of stew beef can yield 6 servings of beef stew, and that's not including all the potatoes, carrots, and root vegetables you'll be adding to the mix.
2 pounds of fajita beef can make up to 12 servings of fajita, now that's a full meal!
If you add up all of that, it comes up to at least 50 servings with just one NIKU Farms order! It's important to remember that you aren't just eating all of this meat on its own. You'll have vegetables, carbohydrates, and condiments to complete your well-rounded and nutrition-packed meals. Of course, it also depends a lot on your own household appetite and how much you can individually eat. 50 servings from one box doesn't seem like a bad starting point, though.
After seeing this, if you're interested in customizing your own NIKU Farms boxes and giving our sustainably raised meats a try – check out our current product offerings on our website here.