Hearty Beef Stew
February 25, 2021
There are hesitations from some people when it comes to consuming red meat, as they prefer to stick with leaner chicken or fish to avoid unwanted fats. However, we must keep in mind the proper nutrient intake that is the core of healthy living and that when consuming red meat, quality counts. In our previous post here, 100% grass-fed beef has double the amount of nutritional essential fatty acids compared to grain fed options. Essential fatty acids are called such because the human body cannot make them, and they therefore must be obtained through the diet. They have shown to help with weight loss and lower blood pressure, and reduce inflammation.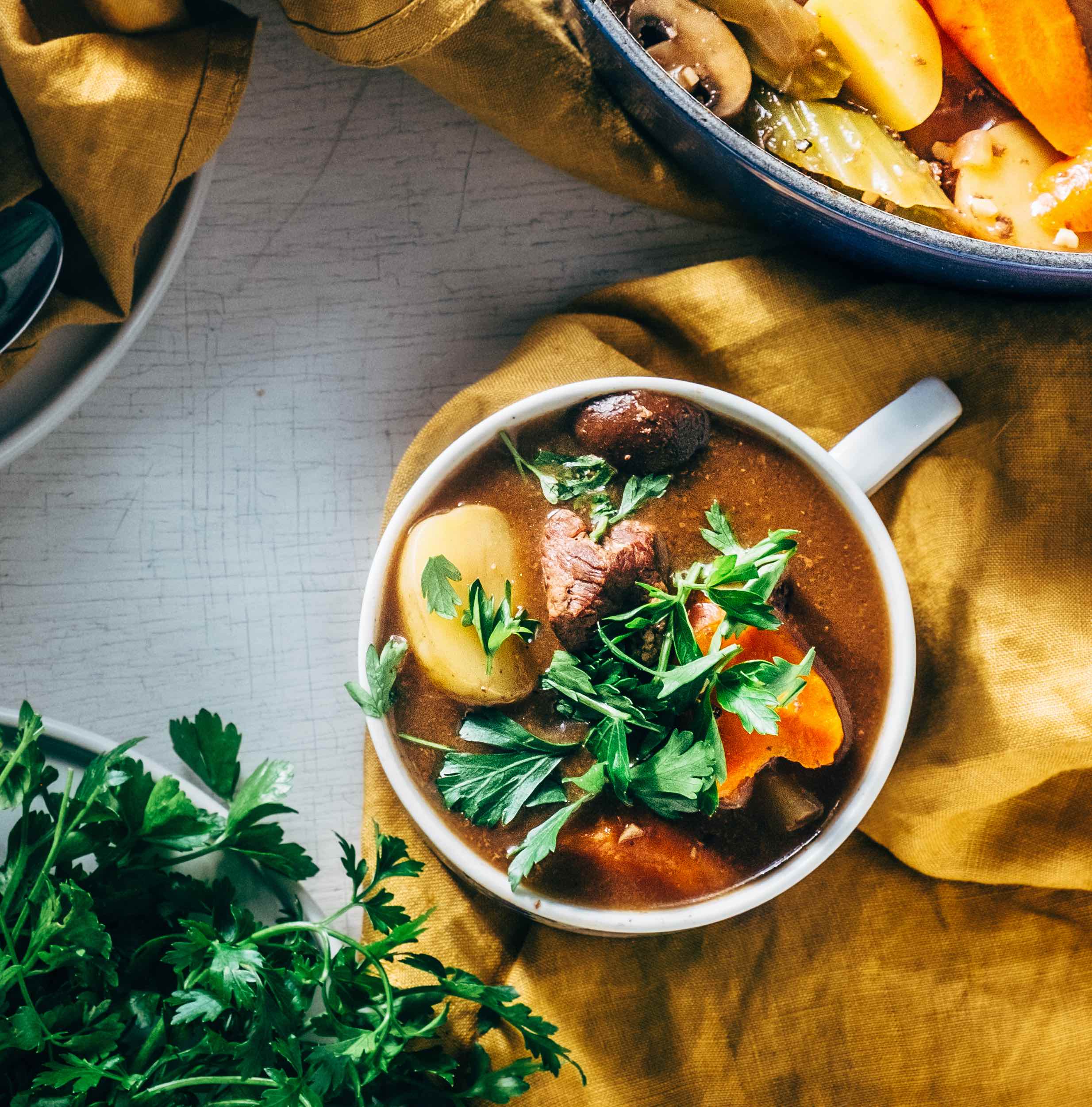 If you are looking for more ways to incorporate grass-fed meat into your diet, try this Hearty Winter Stew using Stewing Beef from NIKU Farms. Using grass-fed stewing beef, potatoes, carrots and a warming broth this stew is easy to make, delicious, and perfect for those snowy, cold evenings.
HEARTY WINTER BEEF STEW
A hearty stew filled with carrots, potatoes, celery, mushrooms and grass-fed beef. Perfect for those cold winter evenings.

Serves: 6
Prep time: 30 minutes
Cook time: 2 1/2 hours

Ingredients
2 lbs grass-fed stewing beef
Salt and pepper to season
3 tbsp olive oil
1 large yellow onion, chopped
4 cloves garlic, minced
1 tbsp balsamic vinegar
1 tbsp tomato paste
4 tbsp tapioca flour
½ cup dry red wine
1 L bone broth of choice
1 bay leaf
1 tsp dried thyme
1 sprig fresh rosemary
2 celery stalks, cut in 1 inch pieces
4 large carrots cut in 1 inch pieces
1 lb baby potatoes, cut in half
2 cups halved button mushrooms
Fresh parsley for serving

Instructions:
Preheat the Oven to 325 F
Take 2 lbs of stewing beef and pat dry. Season liberally with salt and pepper.
In a dutch oven heat 1 tbsp olive oil over medium heat.
Brown the meat in batches, being sure not to crowd the pan. Add a splash of olive oil to the pan after each batch.
Transfer the meat to a plate and set aside.
Add the chopped onion, garlic and balsamic vinegar to the pot and stir with a wooden spoon, lifting away the brown bits at the bottom of the pan, for five minutes.
Add the tomato paste and cook for another minute.
Add the meat back into the pot and sprinkle with the tapioca flour. Stir until the tapioca flour is dissolved.
Add the wine, beef broth, bay leaf, dried thyme and rosemary. Stir and bring to a boil.
Put the lid on the pot and place in the preheated oven. Braise for 1 hour.
After an hour mix in the carrots, potatoes, and celery. Place the lid back on and put the dutch oven back in the oven for another hour.
Meanwhile, in a large skillet heat 1 tbsp oil over medium heat. Brown the mushrooms until their juices are released (about 10 minutes) Drain off any extra liquid and season with salt and pepper.
Add the mushrooms into the stew for the last 15 minutes of cooking.
When the vegetables are fork tender, remove the bay leaf and rosemary stalk.
Taste and adjust the seasoning. Serve with fresh parsley.