Get to know the NIKU team!
September 8, 2021
NIKU Farms is made up of a small but mighty team of people who are passionate about what they do, and their part in what makes NIKU Farms something great. 
We thought it would be a great idea to pull back the curtain and introduce you to the team that makes up our growing business!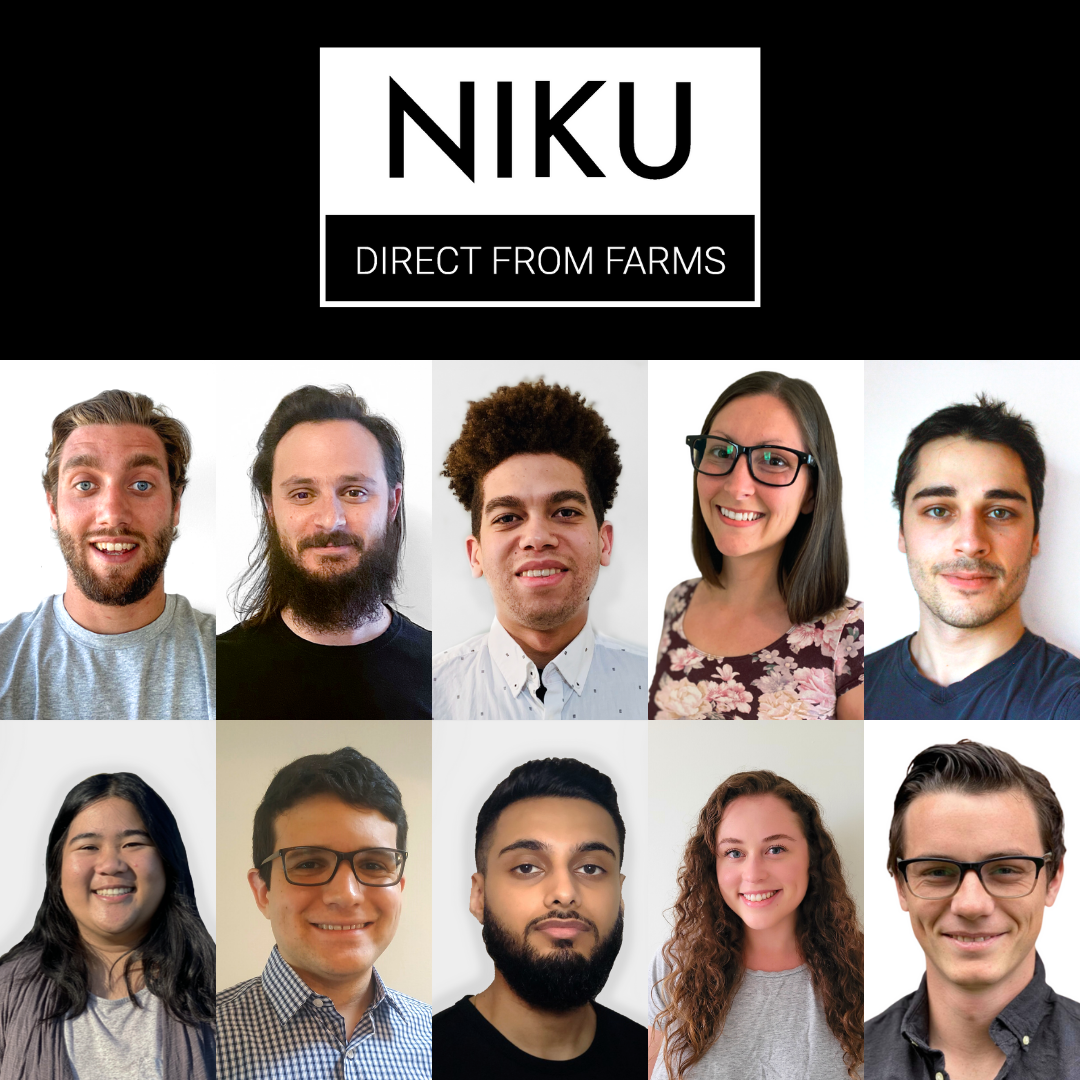 Luke Armstrong
As Co-Founder of NIKU Farms, Luke is dedicated to living life with genuine curiosity and good food. He watches every Bon Appetit YouTube video the hour it's published and constantly sources top ingredients for his next meal.
Jake Goldberg
Jake is passionate about sustainability, and lives out of his tent as much as he can. He decided to start NIKU Farms once he learned more about the food he was feeding his family, and knew it was important to switch to pasture-raised meat products.
Myles Bennett
Myles works with the NIKU team to improve the online customer experience, specifically frontend features that the users interact with. His favourite recipe is noodles with Thai peanut sauce – simple but delicious! He has a passion for sports and tech, and recently started a small vinyl collection.
Michelle Bozzetto
Michelle coordinates all of our marketing and social media projects in a way that features creative design and highlights customer service. She loves making spaghetti bolognese with grass-fed beef and could eat it every day of the week! In her spare time, Michelle can be found watching Food Network, singing karaoke, or planning her next travel adventure.
Michael Engerer
Michael works with the backend software on our website to design, implement, test, and maintain the various systems that run on our site. He loves to cook pasta aglio e olio, eating poutine, and always wants his food to be spicier. Outside of NIKU, Michael spends time gaming or learning new skills.
Erin Famaran
Erin focuses on NIKU's operations and customer experiences. She maintains great relationships with our farmers and provides a seamless experience for our customers. Her favourite recipe is steak with compound butter, and is a talented multi-instrumentalist, currently in the process of learning the drums!
Danilo Gondim
Danilo is a web developer that builds solutions to improve our user experience both on the frontend and behind the scenes. He is interested in creating new things and is always up for a challenge. His favourite recipe right now is coconut shrimp, but won't say no to a dessert!
Garry Grewal
Garry is our user experience designer who creates seamless online experiences for everyone that visits our website. His favourite recipe right now is tacos with grass-fed ground beef – simple and impossible to mess up! You can catch him cheering on his favourite sports team, or adding to his sneaker collection.
Stephanie Harding
Stephanie is passionate about providing our customers with any support they need! She works closely with the whole NIKU team to ensure we deliver the best experience to all of our customers. Her favourite recipe is homemade mac and cheese, and can be found fostering dogs for her local rescue in her free time!
Dominic Mortimer
Dominic is a data scientist at NIKU that works to extract key insights from our data to help improve the customer experience. He analyzes data and creates visualizations that tell meaningful stories for our team. Dominic's all-time favourite recipe is tacos, and although he's torn both ACLs playing soccer, he still plays the sport!
Learn more about each of our team members!