Unboxing from NIKU Marketplace: Bundles Edition
September 20, 2021
We often get asked what customers can expect to get inside their NIKU Farms boxes, but the short answer to that is – it's different for every customer, every time! 
It depends on the farm you choose to buy from, the cuts of meat you add to the box, and if you choose to select a la carte products or our curated meat bundles. 
This month, we're showcasing the contents of a regular box, if you added two bundles from the NIKU Farms marketplace.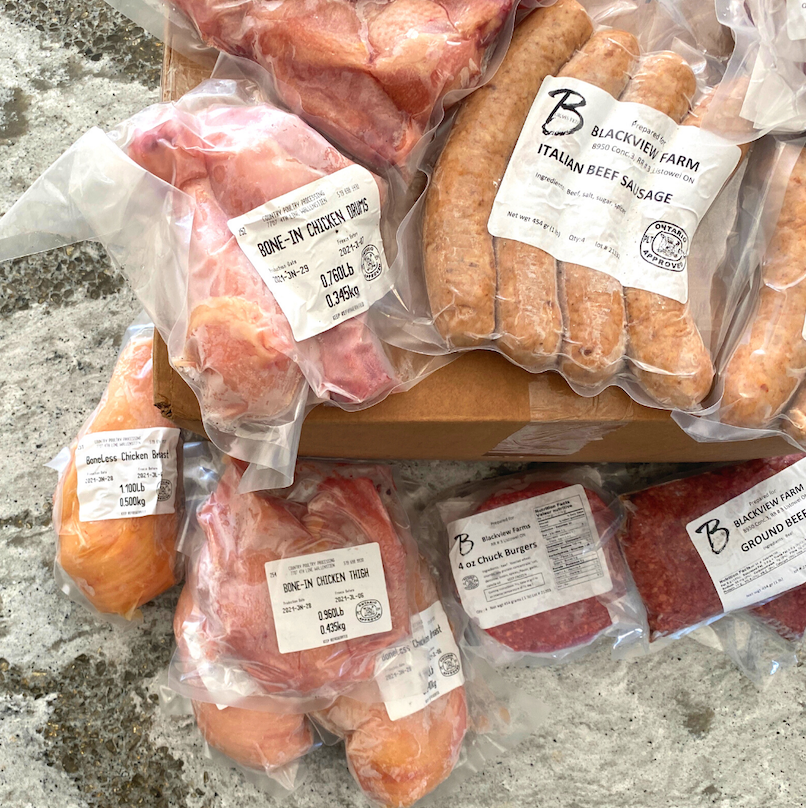 Selecting the NIKU Marketplace instead of a specific farm means you can get fish, chicken, and beef from three different farms, so it's a great place to start if you're not sure what type of pasture-raised, grass-fed meat you're looking to buy that month!
In this Regular box, we have BOTH the Backyard BBQ and Chicken Medley bundles. 
The Backyard BBQ bundle includes: 8 beef burgers, 8 Italian sausages, and 2 lbs of ground beef from Blackview Farm. But what can you make with that much meat for a family of 2-4 people? Here are some ideas:
2-4 hamburger dinners on the grill
1-2 sausage meals
1-2 pasta meals with sausage
1-2 taco nights with ground beef
1-2 pasta bolognese meals
The Chicken Medley bundle includes: one pack of chicken wings, one pack of thighs, one pack of chicken drums, and three chicken breasts from Back to Nature Organics farm. Here is an idea of what you can cook up with this selection for 2-4 people:
1-2 nights of spicy wings
1-2 chicken thigh meals
1-2 marinated chicken drum meals
All of our farms' chicken breasts are large enough to feed an entire family with one breast, so you can really have fun and get creative with them!
1-2 chicken caesar salad meals
1-2 chicken stir frys
1-2 BBQ chicken strip meals
So there's an idea of how much your family can get out of one Regular size NIKU Farms box – and those are just recommendations! Depending on the size of your family, you'll likely be able to get lots of leftovers and meal prep out of each of those dinner ideas.
Take a look at our products before you buy to get a better idea of what each of our farms has available and get inspired for your next meal prep session!