Winter Stew Slow Cooker Meal Inspiration | NIKU Farms
November 3, 2021
It's that time of year – the air is chilly, and all you really want to do is curl up with a blanket and a cup of soup. We feel you. That's why we've got slow-cooked stew on the brain!
Regardless if your favourite NIKU Farms pasture-raised meat is beef, chicken, duck, or bison, we've got something you'll love to cook up for your family this winter.
Take a look at how to turn any of our grass-fed meats (or fish!) into a delicious, hearty stew.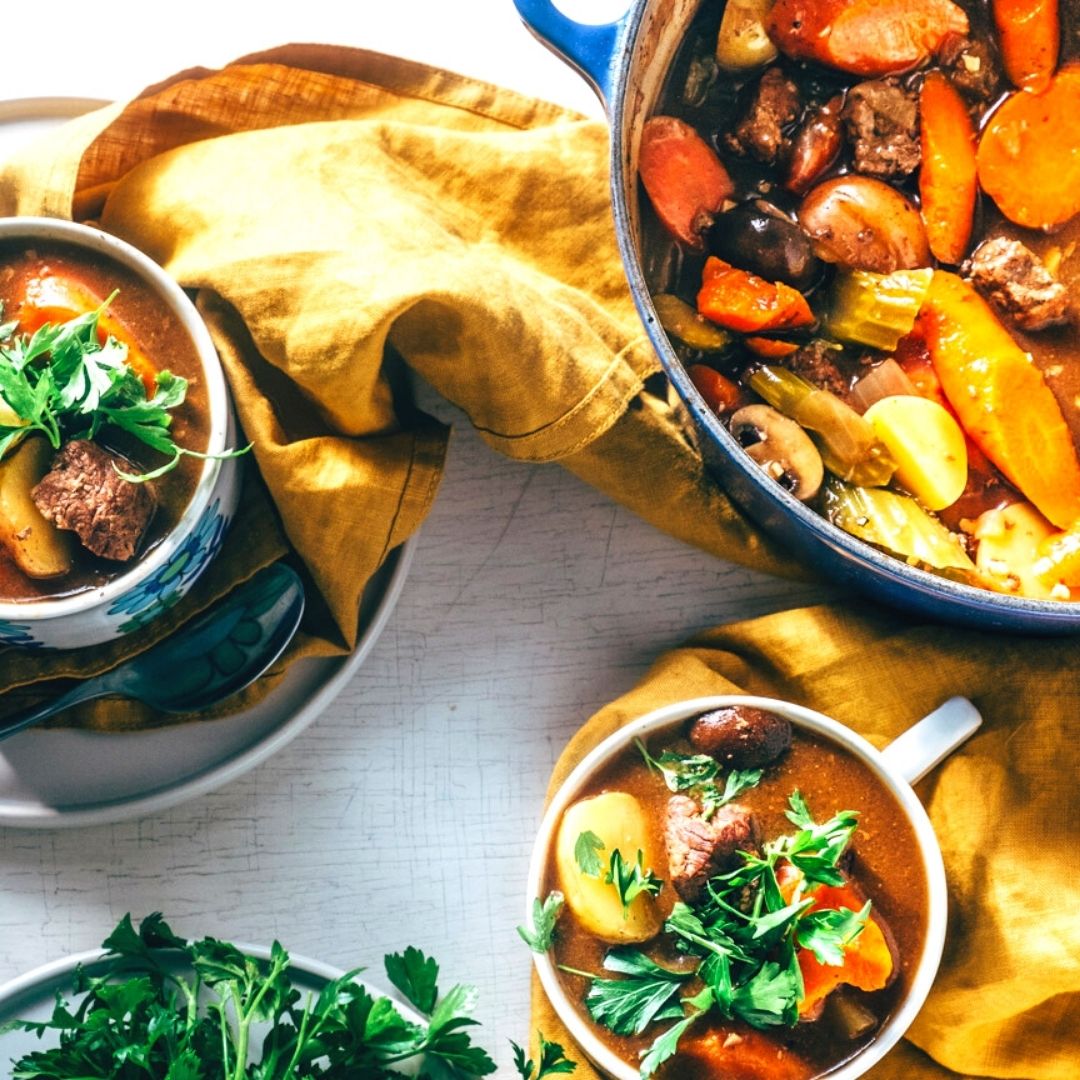 Beef Stew
You can't go wrong with a classic! Season a pack of stew meat from Marita Fields with salt, pepper and garlic, brown the beef, and put in a pot or slow cooker with sliced carrots, potatoes, celery and some beef broth or chicken stock for super tender beef stew.
Lamb Stew
Looking for a different flavour? Try ordering some lamb chops or leg roast along with lamb bone broth from Woolleys' Lamb, season your protein with salt, pepper and garlic, and toss in some onions, chickpeas and mint!
Chicken Stew
If you're a chicken fan, add some chicken thighs or breasts from 5 Chicks and a Farmer or Trick's Creek Farm to your next NIKU box. Season your proteins and add chicken broth, onions, lentils, carrots and some thyme for a tasty stew that doesn't stick to your ribs quite as much.
Pork Stew
Pork chops from Marita Fields are absolutely delicious stewed with some of your favourite bone broth and various root veggies. Try turnips and carrots with some mushrooms, and add some bacon slices for some extra flavour!
Duck Stew
If you love the sweet and savoury mix, why not pick up some duck breast or legs and duck bone broth from Marita Fields in your next box? Cook with squash, onion, and some red wine vinegar for that delicious harmony of flavour.
Bison Stew
Feeling adventurous? Add some Big Rock Bison products to your next box, season and simmer in your favourite flavour of broth with veggies like carrots, celery, onion, potatoes, and even some bacon to add a little bit of fat to your stew. Throw in some rosemary for added seasoning!
Rainbow trout in tomato stew
If meat stew isn't really your thing, make a delicious and light fish stew with rainbow trout from John O's Foods! Create a white wine and tomato broth, add celery, carrots, and some red pepper flakes, and of course the trout.
Feeling inspired to cook a stew this season? Head over to our products page and take a look at which meat or fish you might want to try in your next stew recipe!