Vegetable, Herb, and Garlic Roast Chicken
November 7, 2018
Few dinners feel as complete as a good old-fashioned roast chicken. With a choice selection of colourful veggies, nutritionist Sarah Goldstein developed this roast chicken recipe which will leave everyone both full and happy. . Also included in this recipe is what to do with leftovers!
At NIKU Farms, we offer pasture raised chicken that's non-GMO, antibiotic-free and no added hormones.  Check out out the chicken packages . Of course, if you want to combine chicken and and beef for example, you can sign up for our subscription program to build your own bundle!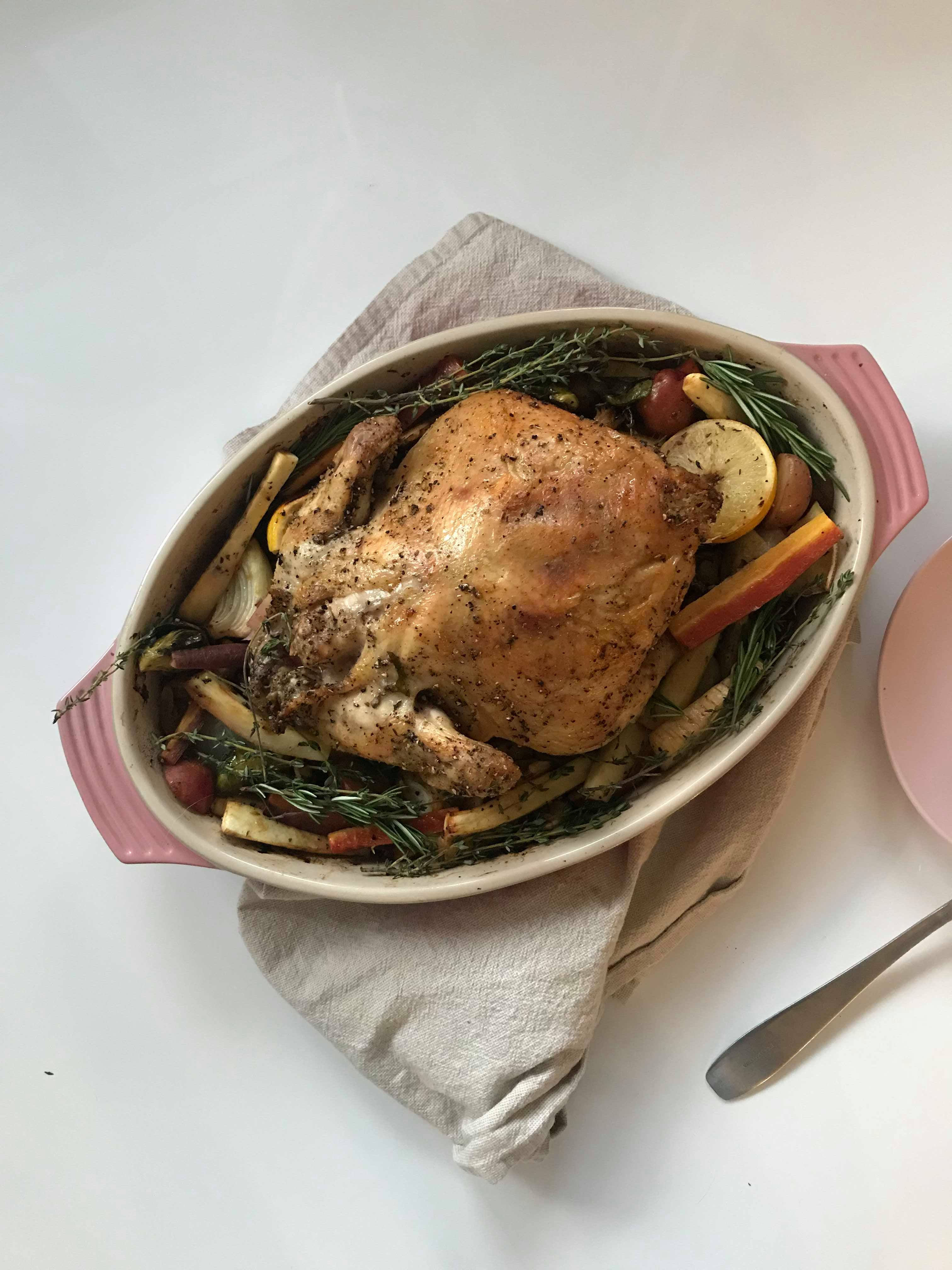 Vegetable, Herb, and Garlic Roast Chicken
Ingredients
2 cups, chopped veggies of choice. I used carrots, brussels sprouts, mini potatoes and parsnip. Beets, broccoli and cauliflower would also work!
4lb NIKU Farms whole chicken
1 bunch of rosemary
1 bunch of thyme
2 lemons
3 whole cloves garlic
Salt
Pepper
Dried Italian seasoning
Olive oil
Method:
Preheat oven to 400 F.
Chop vegetables and add to pan with olive oil and a sprinkle of salt and pepper. Slice lemon and add to pan.
Prepare the chicken by rubbing skin with olive oil, salt, pepper and dried Italian seasoning.
Place chicken on top of vegetables in pan and add fresh herbs and whole pieces garlic to the pan.
Cook chicken for approx. 1 hour and 20 minutes total (or 20 minutes per pound), although check and baste every 30 minutes or so.
Leftovers:
Leftover chicken can be enjoyed throughout the week. Sarah's favourite ways to use up the leftovers include adding the chicken to a wrap, top a salad, or to include in a stir fry with vegetables and rice.
Check out all the packages that include Chicken.