Rosemary and Lemon Butter Spatchcock Chicken
July 14, 2020
Perfectly cooking every part of a whole chicken is really difficult to get right. But spatchcock chickens from Marita Fields are flattened with the chest bone removed and allow for a much more even bake, quicker cooking time, and crispier skin!

Add root vegetables and starches to the bottom of your pan too for a fully balanced meal of carbs and veggies. We've tried and tested this recipe and can guarantee a delicious and flavour packed dinner your whole family can enjoy!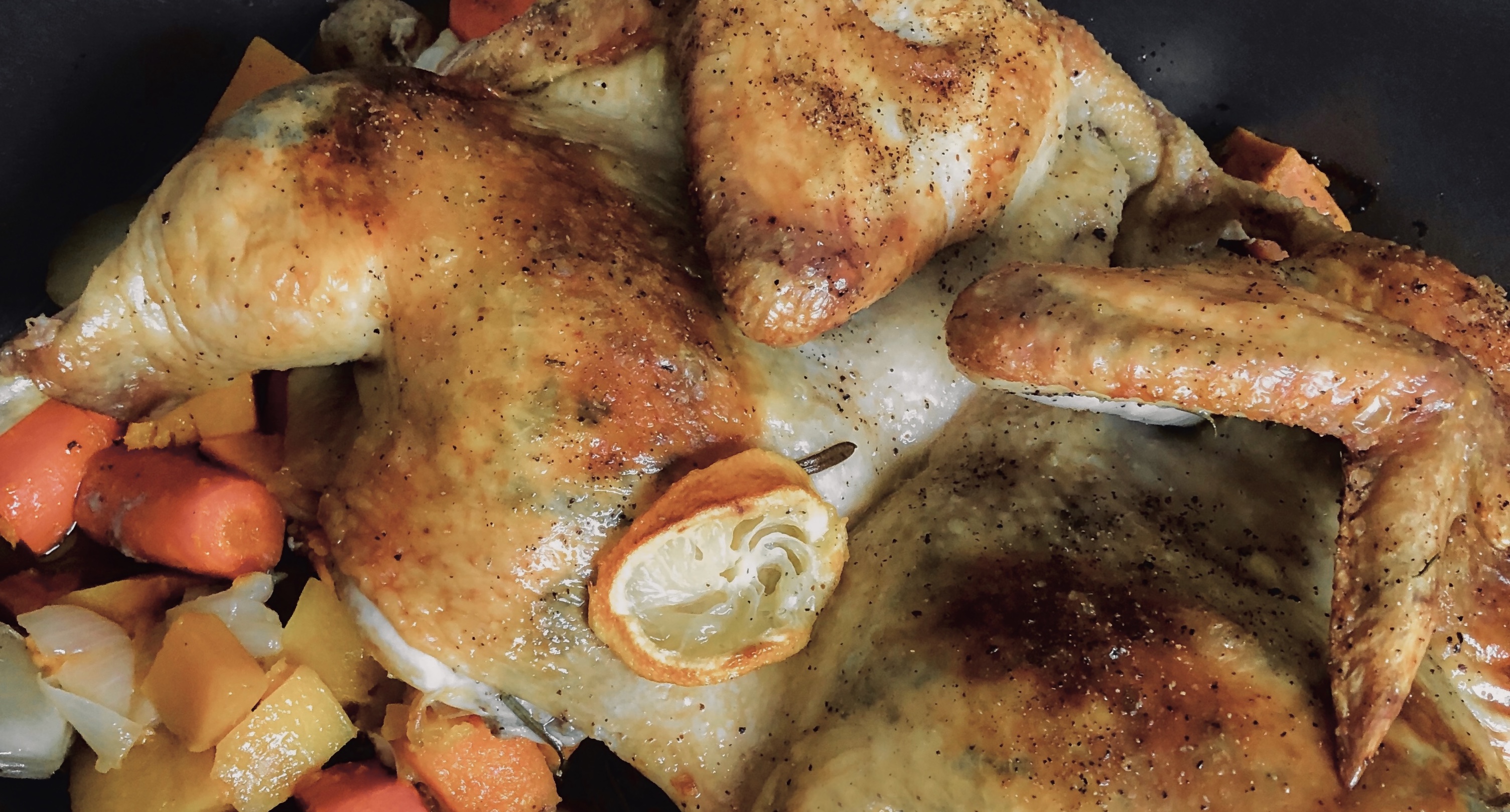 Prep Time: 15 Minutes Cook Time: 1 Hour Total Time: 1 Hour 15 Minutes

Ingredients for Chicken Seasoning:
Salt and Pepper
Optional: 4-5 twigs of rosemary
Optional: Lemon slices
Ingredients for Root Vegetables:
2 lbs mini red and white potatoes
3 medium carrots peeled and chopped
1 medium onion
1 lb butternut squash chopped
1 lb sweet potato chopped
Ingredients for Flavoured Butter:
4 tablespoons unsalted butter (softened)
1 tablespoon olive oil
1 tablespoon rosemary flakes
3 garlic cloves, minced
¾ teaspoon lemon zest
1 tablespoon lemon juice
Salt and pepper
Preparing your Chicken:
Your NIKU Farms chicken will come pre-flattened so you don't have to spatchcock the poultry yourself. If you are using something else, refer below for how to spatchcock your chicken.
Place the chicken breast-side down with the wings/neck facing towards you. To remove the spine, use kitchen shears to cut through the ribs right next to the spine along both sides. Open rib cage and use a heavy knife to score down the sternum. This will help pop out the breast bone and flatten the chicken.
Flip the chicken over breast-side-up and set on the parchment-lined, rimmed baking half sheet. Using the palm of your hand, push firmly over the breast bone forcing the chicken to lay completely flat.

Cooking Instructions:
Season the inside of your chicken and under the skin with generous amounts of salt and pepper
In a small mixing bowl, combine the flavoured butter ingredients. Mash it all together with a fork until your lemon juice is mostly incorporated into the butter.
Preheat your oven to 425 F (or C)
Spread all of your mixture all over the chicken and underneath the skin
Place chopped vegetables under the chicken on a roast pan, or all around the chicken, and drizzle everything with olive oil. Sprinkle your chicken and vegetables generously with salt and pepper to taste.
Optional: take your rosemary twigs and between the chicken and on top of your vegetables. Place lemon slices on top and around your chicken.
Bake uncovered for 1 hour or until an instant-read thermometer reads 160F when inserted into the thickest part of chicken breast. Remove from oven and rest uncovered for 10 minutes on cutting board before serving.
Our partner Marita Fields offers the perfect spatchcock chicken for this recipe. If you want to give this recipe a try or make your own, sign-up now and customize your first NIKU Farms box!