Bacon and Cheddar Savoury Scones
August 26, 2020
Have you ever wanted some bacon mac and cheese….as a snack? Bacon and cheese are one of the most universally loved combinations, and we can't think of a better way to enjoy it than in these biscuits. These are perfect to grab-and-go and are a crowd pleaser!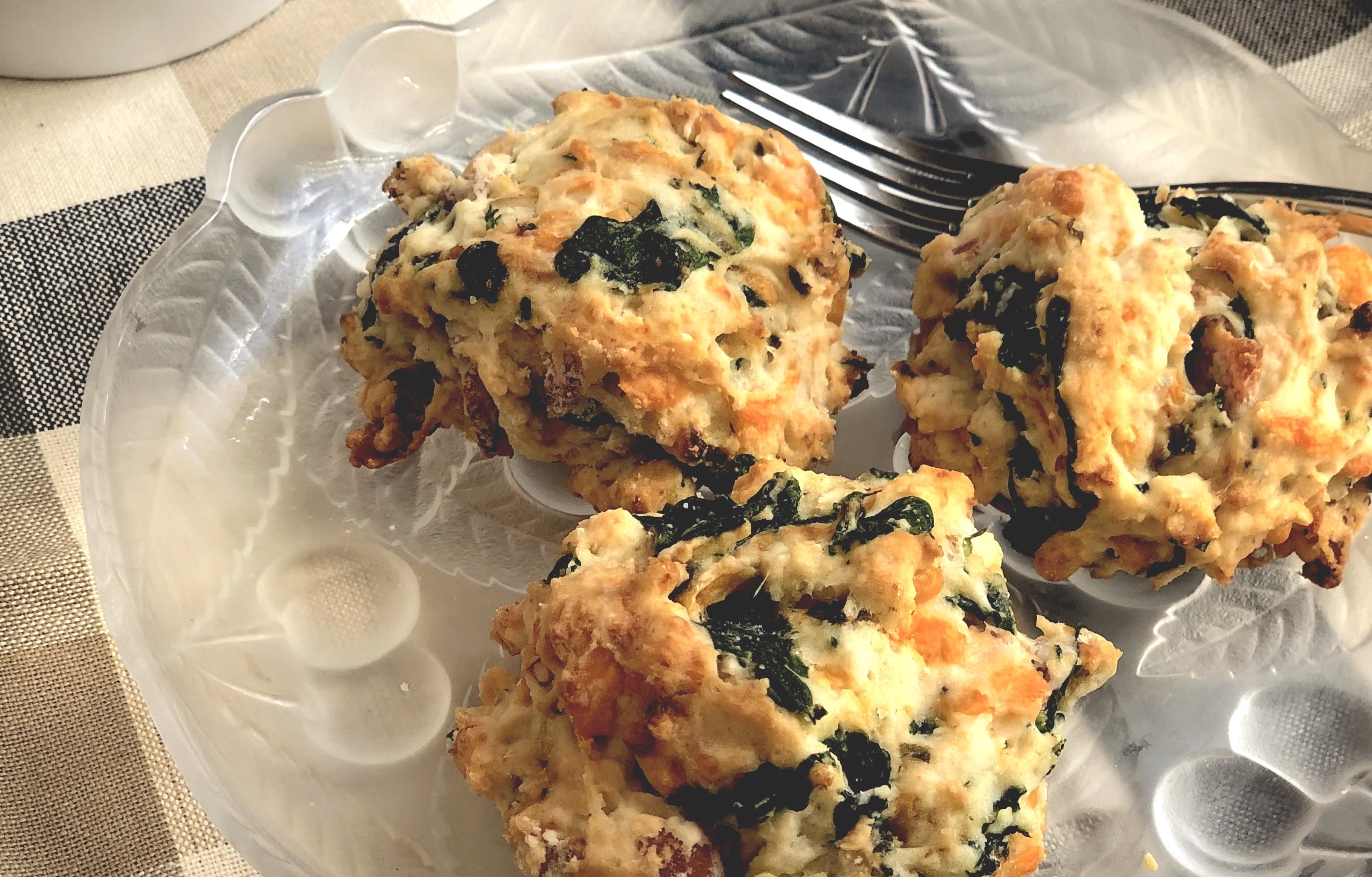 With September approaching, things will pick up, and schedules will get busier. Set some of these aside for your kids to snack on in the afternoon. Or defrost them for yourself to enjoy in the morning. 
Makes 12-16    Cook time: 15-18
250g chopped bacon bits
3 handfuls of arugula, spinach, finely chopped
200g grated cheddar cheese
2 teaspoons baking powder
4 cups all-purpose flour
2 teaspoons of salt
1 cup chilled cream
1 cup chilled soda water (club soda)
Preheat oven to 200*C and line a baking tray with baking paper
In a mixing bowl combine flour, baking powder, salt, and cayenne, if using. Mix in chopped leafy greens and cheese. In a separate bowl, combine the cream and soda water/club soda. Make a well in the center of the dry ingredients and pour in the liquid. Mix with a knife until just combined. 
If making in a food processor or electric mixer, pulse together flour, baking powder, salt, cayenne, leafy greens, bacon, and cheese to combine. Add soda water/club soda and cream, pulsing 3-4 times until the mixture just starts to come together. 
Turn out onto a lightly floured surface and pat into a rough rectangle about 4cm thick. Cut into 12-16 pieces and place on a prepared baking tray. Bake until scones are puffed and golden, and they bounce back when pressed (about 15-18 minutes) 
Freeze if not using the same day. When ready to use, thaw and reheat for 5 minutes in an oven preheated to 220*C. 
Serve warm or at room temperature, split open and spread with a little butter, if desired. If you have any leftovers, you can always freeze the biscuits and reheat them whenever you want to have a snack. 
Bacon and cheddar are just the beginning, with this delicious base recipe you can add whatever grass-fed meats you'd like. Italian sausage, ground beef, bacon, ham, or chicken! Order your first box with NIKU Farms and try out your favourite combinations!